Brief history
Linköping Flying Club – LFK – was founded in 1933 and is one of Sweden´s oldest and largest flying clubs. We operate from the Saab Airport in Linköping, Sweden. Our closest neighbours are the aircraft manufacturer Saab and Linköping City Airport.

Today LFK has approximately 300 members. We work in close cooperation with the other flying clubs and private owners of general aviation aircraft in Linköping, with a total of 500 members and 40 aircraft.
Activities
LFK provides basic flight training for students aiming for a PPL – Private Pilot License or an IR – Instrument Rating. We also train pilots in formation flying, aerobatics and VFR night flying. If you want to experience what it is like to fly, you can get a trial lesson in the air with one of our instructors.
LFK supports the Swedish Armed Forces with aircraft for use by the FFK, the Swedish Volunteer Air Corps.
Aircraft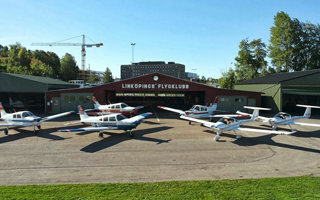 Today we have five aircraft in use for training or for renting by members of the club. One Garmin G500 equipped Diamond DA-20 Eclipse and four Piper PA-28 Archer II/III/Cadet.
We also have a Piper PA-18 Super Cub that is undergoing a major reconstruction work by members of the club.
Contact us
If you are a visitor to Linköping and want to fly with your own aircraft to ESSL – Linköping Saab Airport, PPR is required, see instructions in the AIP.
For more information regarding how to become a member, when the next training class starts etc. , please contact skolchef@lfk.se or info@lfk.se.